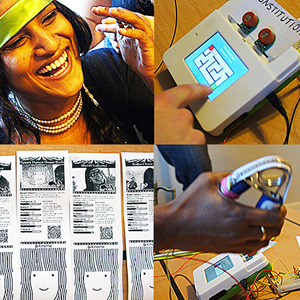 Kinoma Create Hoedown!
electronic and web game experience
Marvell Kinoma
Hoedown is an Austin-themed interactive character generation system that tests a person's intelligence, constitution, and more, using a series of entertaining challenges; it was developed as a tech/experience demo for the Kinoma Create (an IOT prototyping platform). I was the sole visual and electronics designer, collaborated on game design, and helped showcase this game as a part of Kinoma's booth at South By Southwest 2014.